BIOGRAPHY
William Melvin Gardner grew up on a farm and, at various times, has been a mechanic, a weather technician, professor of psychology, researcher, mental health administrator, businessman, and automotive historian.  At age 29, he received a Ph.D. in General Experimental Psychology from the University of Alabama; he served on the faculty at Georgia Southern College, Mercer University, and Jacksonville State University. He spent a year studying communication disorders at the University of Wisconsin, and occasionally during his teaching career took courses in philosophy.  After retiring from Jacksonville State University, he taught at the College of Charleston and Reinhardt College. His research topics included animal behavior, comparative learning, personality, childcare institutions, and academic honesty. He has written on statistical methods, language, academic cheating, attitude assessment, conditioning and learning, and on his lifelong hobby:  automobile history. He lives near the Gulf Coast where he continues to read and write on topics ranging from truth to human nature.
BOOKS BY WILLIAM MELVIN GARDNER: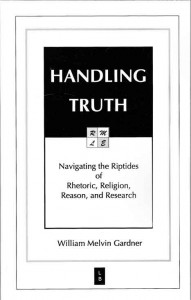 William Melvin Gardner's Handling Truth: Navigating the Riptides of Rhetoric, Religion, Reason, and Research (Logica Books, 2012, Second Edition 2020) is available at Amazon, B&N, Book Depository, and local bookstores.
We know no higher experience than human experience, no higher understanding than human understanding, and no truth higher than that formed within the confines of, and expressed with, language. We know only the truth of the four sovereign domains of truth.
In the oldest domain, RHETORICA, statements are advanced or discredited by the process of persuasion and debate, or rhetoric. In Rhetorica, truth always remains a matter of opinion. In the second domain, MYSTICA, truths are articles of faith or beliefs, arising from and tested by spiritual revelation, prophecy, sacred texts, personal enlightenment, or other mystical processes. In LOGICA, truths are inferences or proofs that have been validated with the methods of logic. The fourth domain is EMPIRICA, and its truths are empirical findings, confirmed and documented by research.
On July 15, 2020, my new book, Aphorisms for the Uncommon Reader, was released by Logica Books and is available at Amazon, B&N, Book Depository, and local bookstores. It provides a review of this briefest and broadest form of the literary arts, followed by 400 original, thought-provoking, and humorous insights, for example:
The toucan sees nothing unusual in the mirror.
We make lifelong friends while we are young and indiscriminate.
Capitalism:  n.  An ingenious system for creating work for workers, wealth for the wealthy, and poverty for the poor.
You can learn what you have to say only by listening when you speak.
Perceptions:  n. pl.  Images from our past distorted to accommodate the objects currently before us.
Happiness isn't something that happens to us. It's something we do.
We usually understand what we heard, even when we don't understand what was said.
Adulthood:  n.  The developmental stage in which we abandon our selves to become our lives.
Militia: n. An armed mob organized by shirt color—historically black or brown.